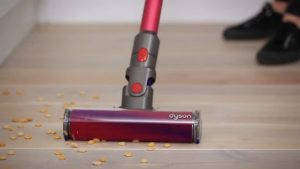 Cleaning homes and offices is an inescapable everyday task. In this scenario, the vacuum cleaner is a life savior for many of us. Though corded vacuum cleaners dominated the market a few years back, many people have switched to cordless vacuums. Comparatively, cordless vacuums are more expensive than corded ones. An average-quality cordless vacuum will set you back at least $250. That's why many people wonder, why are cordless vacuums so expensive?"
There are various reasons why cordless vacuums are more expensive than others. But the most likely cause is its costly components. Since these cleaners don't use cords, they must rely on high-quality components to do their functions. It is pretty natural that the higher the quality of the components, the higher the price.
This article will explore why cordless vacuums are high-priced. Besides, the readers will learn about additional information and some FAQs. So, let's start.
What is a Cordless Vacuum Cleaner?
A Cordless Vacuum Cleaner is a cleaning tool that uses a rechargeable battery instead of power connecting cords for cleaning. Most often, these cleaners use lithium batteries that provide the users with a long time of usability. Batteries can either be removable or permanent based on the model type. These cleaners are available in various configurations, including handheld, stick, and robotic variants.
Some advantages of Cordless Vacuum
Cordless vacuums offer users numerous advantages. That's why they are getting more popular nowadays. I have mentioned below the key advantages:
Easy mobility: Unlike corded vacuums, one can easily carry the cordless vacuums anywhere and can even clean hard-to-reach places of home or offices. You don't have to struggle carrying numerous components while cleaning. The easy mobility of cordless vacuums is one of the prime reasons why people nowadays prefer cordless one over corded one.
User-friendly: When corded vacuums often have complicated filters, cordless ones have user-friendly filters that are simple to remove, clean, and replace. It also provides simple trash discharge. Just glide the ejector and take the compacted dirt out! More interestingly, one doesn't have to go through setting change hassles when switching the cleaning surface. Just move the vacuums from carpet to hardwood, and collect trash.
Tips: try to get bagged cordless vacuums. So, you don't have to clean dirty bins.
Lightweight: This feature is vital for easy mobility of the vacuums. Unlike corded vacuums, cordless cleaners don't need powerful AC motors. Instead of heavy motors, they use lightweight Li-ion batteries. While traditional vacuums can weigh up to 9 kg, cordless vacuums can weigh as little as 2.4 kg.
Long-time usage with super cleaning: Most premium cordless vacuums use AirLOC technology that can collect even larger trash, ending up a super clean floor. Besides, these cleaners can operate for up to 40 minutes. So, users can use it for a longer time.
Why are cordless vacuums so expensive?
Many people wonder what is in cordless vacuums that make them so expensive. The answer lies in expanded research, innovation, and high-quality technology incorporated into these cleaners. Let's explore the key reasons:
Research and innovation: In this scientific era, every brand competes to develop tools that offer the most advanced features to attract more customers. Even the invention of cordless cleaners also was the result of such competition.
However, famous cleaning brands, such as Dyson, Tineco, hire the world's best engineers for further innovation, upgrading the features, testing performance, and durability. These extensive researches and trials also cost more, which raises the price.
2. Latest technology: Cordless vacuums use the latest technology to enhance their efficiency, which enhances price. Since it is difficult to list all of the technological aspects, I have highlighted the most important ones here:
Adaptive suction: It refers to a vacuum's capacity to absorb the dirt from different types of surfaces. It means the users don't have to change the power mode while changing the surface type. The vacuum will adapt itself to the surface. All premium brands try to include adaptive suction features by using different methods.
Furthermore, depending on the quantity of dirt, certain cordless vacuums modify their suction ability. For example, if there is more dirt on the floor, the vacuum will automatically increase its suction capability, and vice versa.
Laser Dust Detection technology: Laser Particles Detection: This technology is beneficial for detecting undetected dust on the surface. People can't always see certain dust particles with bare eyes. Laser dust detection technology aids in the identification of such particles. Some vacuum cleaners, such as the Dyson V15, also display the amount of dust on the LCD screen.
High-Efficiency Particulate Air/HEPA filter: A HEPA filter can detect 99.97% of particles as small as 0.3 microns. If you suffer from allergies, a cordless vacuum with a HEPA filter is a wise purchase since it emits nominal particles into the air.
Floorhead Headlights: Some cordless vacuums, such as Shark, feature brighter LED headlights that let users see dust, dirt, and debris even in low-light settings.
Suction Power: The higher the suction power, the more cleaning efficiency a vacuum will have. Premium cordless vacuums feature several power modes to collect different types of trash. Due to the battery, the vacuums don't drop suction power.
LCD-display: Most cordless vacuums use sensors to display the amount of trash. As a result, the users can understand when they have to clean the containers.
FAQ:
Is it worth getting a cordless vacuum?
Cordless vacuums are easier to use than corded vacuums. The cordless cleaners can effectively clean unseen dirt even in difficult-to-reach places. Furthermore, the HEPA filters, sensors, and other screens have made these cleaners worth every penny.
How long do cordless vacuum batteries last?
The battery capacity depends on the quality of the vacuums. In general, the time runs from 10 to 120 minutes. While cheaper vacuums can last around 10 minutes on average, premium vacuums, like the Dyson V15 and Miele Triflex HX1, can last 90 and 120 minutes, respectively.
Conclusion:
Cordless vacuum cleaners have dramatically improved people's lives by making cleaning easier. As a result, despite the high cost of these tools, many choose to utilize cordless cleaners.
However, when we consider the various sophisticated features that cordless vacuums have been providing, such as HEPA filter, Floorhead Headlights, LCD, and greater Suction Power, the price is not that much more.