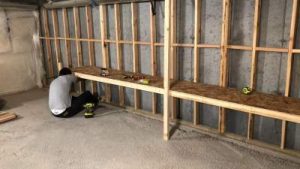 Buying a basement storage cabinet can get pricey and on top of that, you have to buy the one that the manufacturers planned. This is so boring as you cannot get your ideas implemented on those cabinets and even if you get the option, it's super expensive.
So, how to build a basement storage cabinet? Honestly, it's not the easiest thing in the world and requires some experience to build one in the first place. Moreover, a handful of tools, as well as materials, are required too.
Yet, with our step-by-step guide, we believe you can achieve it as it's the easiest way out there. Let's start with the tools and materials.
Tools And Materials Required For Building Basement Storage Cabinet
Before we get started, let's take a look at the tools and materials required so that you can get them on your hand before you even start.
Tools:
Drill Machine
Pocket Hole
Nail Gun
Screwing Machine
Circular Saw
Clamps
Set Square
Measuring Tape
Materials:
Wood Glue
Plywoods
Nails
Sets Of Screws
Door Hinges
How To Build A Basement Storage Cabinet?
Now that you are aware of the equipment and materials you will require, let's look at how to construct a storage cabinet with doors. Moreover, to produce an even cabinet, the cutting and placing must be exact.
Here's the only step-by-step guide you will ever need to DIY a cabinet.
Step 1: Planning
Before you even start doing anything, planning should be your first and most important step. The key here is understanding the size of the cabinet you want to design and the storage you want inside of it. Before you even consider purchasing a large cabinet, make sure to measure the area in your basement.
Step 2: Sizing Cabinet Plywood
In this step, you have to cut your plywood according to your preference. It can either be a full-length storage cabinet or a small one. Thus take a circular saw and size it according to the dimensions you want it to be in.
A total of six pieces of plywood are required. Make sure that two of the plywood pieces, measured from opposite sides, are half an inch shorter than the others.
Step 3: Attaching The Side Panels
Make two sets using the four side panel pieces and wood glue. The best option here is to attach them using a set square and lock them with clamps. A clamp will ensure that they stick since the glue won't just stick by itself.
You'll see that there is a little gap that is out of sync, which is essentially the half-inch margin you maintained. In the following stage, it will be useful.
Step 3: Forming A Box
It's time to construct a box out of the plywood pieces you recently shaped. Start by applying wood glue to the sides of two pieces of plywood cut to the appropriate size. Don't skimp on the adhesive in this situation.
Again, the smooth alignment that you must maintain is the most crucial thing to remember. Thus, it is also necessary to use a set square and clamp in this situation.
You'll be able to observe how the margin made it feasible to attach the bottom and top of the side panel wood.
Step 4: Brace Frames
The next step to take your basement cabinet ideas into real life is cutting brace frames. By using a circular saw, cut four plywoods with the same length as the width of your box's back side.
Step 5: Drilling And Setting Up The Brace Frames
You will be needing a pocket hole and drill two holes on each of the brace frames. Simply put the brace frame on the pocket hole holder and drill through the holes with it.
Later on, take the drilled brace frames and install them in the top panel, back panel, front panel, and lastly the back-top panel. Use screws and a screw machine to properly attach them.
Step 6: Racks
You must now put up racks so that you may keep your basement items there. Once again, cut the plywood using a circular saw to the specifications required for your cabinet. You may make it as broad as you like, but don't make it so wide that your door won't close.
Make 2 holes around the corners of each side afterward with a drill machine and place them in position with a nail gun from the exterior.
Step 7: Installing Doors
Whether it is a small storage cabinet or a big one, without a door they just look incomplete. To attach hinges, first drill holes in the front panel of the cabinet after cutting the plywood to the appropriate size. You would want some screws for this, as well as a screw machine to put the screws correctly.
How Thick Should Plywood Be For Basement Shelves?
The thickness of plywood you should use for your basement shelves is dependent on your use. It is said that the heavier objects you are going to place on the cabinets, the thicker the plywood should be.
Nevertheless, for the usual basement cabinet shelves, the standard thickness is ¾ inches. It should be good enough to hold your day-to-day basement belongings.
Is It Cheaper To Build Or Buy Storage Shelves?
It is certainly cheaper to build shelves rather than buy one. Buying a storage shelve includes the cost of all the materials used as well as the labor cost, designer cost as well as shop profits. Thus, all of the costs are on the shoulder of a customer.
On the other hand, DIY basement storage shelves bring a significant change in the expense of making one as it eliminates all the costs except the materials. Moreover, you can customize it the way you want.
Conclusion
That is all to conclude the answer to how to build a basement storage cabinet? Creating a DIY cabinet is one of the challenging and fun things to do if you have got plenty of leisure time.
But it needs exact measurements and deliberate actions to get the right one. Therefore, the wisest move you can do is to use a set square at every round. This will undoubtedly enhance your entire DIY repertoire because alignment is very important. To avoid confusing the stages, it's also advised to accent the cabinet design.