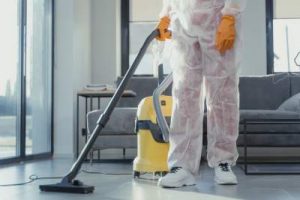 Well, vinyl floors are not only cost-effective and convincing due to their aesthetic appearance, but their maintenance is also very easy. Plus, they are durable and can last for years to come. They also come in different colors, finishes, textures, and styles.
That's why vinyl plank floorings are getting more and more popular day by day in houses and offices. But, you have to keep your vinyl flooring clean to retain its durability for a longer period of time.
And that's where a vacuum cleaner comes into play. A vacuum is one of the most popular tools to keep your floors clean. Now the question is:
Can You Use A Vacuum On Vinyl Floors?
To put it simply, yes, the best way to clean your vinyl plank flooring is to use a vacuum cleaner. But, you should consider using vacuums that are compatible with the vinyl plank.
Heads up: If your vinyl floor is new, then you need to wait for a minimum of 48 hours before vacuuming the floor. Because if you choose to vacuum your vinyl floors right after installing them, they might get scratched.
Moreover, while you use a vacuum, ensure that you use a soft brush on the vacuum. Because while using a power rotary brush, the vacuum uses high energy to suck up the dirt and debris from the vinyl flooring.
Also, consider yourself warned that using a top-notch vacuum can put more energy and force on the floor. As a result, the flooring can get damaged or get scratched. Therefore, we recommend using a vacuum on your vinyl plank flooring carefully.
What Kind Of Vacuum Do You Use On Vinyl Floors?
Well, the best vinyl floor vacuums should be equipped with strong suction, gentle cleaning tools, and good air filtration that won't ruin your vinyl floor's surface.
Though there is not a particular vacuum that is designed for an LVP floor, some models can be more suitable.
Most of the time, vacuums used for hardwood floors might also be used for vinyl floorings and vice versa. Remember that vinyl plank floorings are tougher and more durable than hardwood floorings. But, like hardwood floors, vinyl floors are also sensitive to sharp objects such as grains of sand.
Also, bear in mind that a vacuum cleaner having special brush attachments is the best option for cleaning your vinyl floor. We suggest you use low-powered settings on the vacuum while cleaning these floor types. And use a crevice tool attachment with bristles to clean those corners and edges where dirt and debris tend to accumulate.
When you commit to buying a vacuum cleaner for vinyl floors, you should take utmost care to make sure there are no sharp edges or metal plates at the bottom of the nozzle. For this reason, we recommend you make use of a vacuum cleaner with a parquet nozzle for cleaning.
Since these types of vacuum cleaners are softer and provide you with longer bristles as well, they prevent scratches on the vinyl floors. And, choose the cleaner according to your needs and preferences.
Should You Use a Rotating Brushroll on Your Vinyl floors?
Whether you should use a rotating brush roll on the vinyl plank floorings or not completely depends on the brush roll's type and its speed.
A gentle brush roll that spins comparatively slowly will help you improve your cleaning significantly without causing any scratching to your vinyl surface.
If your vacuum cleaner comes with a dedicated soft brush roll, that's great. But, if it doesn't, you should consider turning the brush roll off completely while vacuuming the vinyl floor. It is better safe than being sorry, right?
If you are not sure whether your vacuum cleaner has a soft brush roll or not, then go on check out the manufacturer's guide the vacuum cleaner regarding vinyl floors.
What Kind Of Vacuum Should You Avoid With Vinyl Flooring?
Since decent vinyl plank flooring should be extremely resistant to scratching and scuffing, most vacuum cleaners with a hard floor setting should be fine.
Generally, we suggest you avoid using vacuum cleaners without a brush roll shutoff because most of them will toss dirt and grime at your feet and scatter it more than actually cleaning it.
On top of that, while you are using a vacuum on the vinyl plank flooring, avoid using a vacuum cleaner with a beater bar. Since a beater bar is what causes all the scratches, remove it when you clean vinyl plank, and you'll have no scratches and scrapes.
Things To Avoid While Cleaning Your Vinyl Plank Flooring:
Let's see what more you shouldn't use on your vinyl flooring:
You should never use highly abrasive scrubbers while cleaning your vinyl floor because this will scratch your floor, making the floor look dingy.
Don't use detergents and shine products on the vinyl floor. Because they will most probably leave a dull film on the vinyl flooring.
Plus, you should also avoid using ammonia-based cleaners when you clean the vinyl floor.
How To Clean Your Vinyl Plank Flooring With A Vacuum? (3 Easy Steps)!!!
Vacuuming vinyl floorings can be a very easy task if you've got the proper tools in your hands.
Tools you need to carry out the cleaning job on the vinyl floor properly:
A good vacuum cleaner.
A microfiber cloth.
Some paper towels.
Let's get to know some easy-peasy steps to know how you can clean your vinyl floor with a vacuum:
Step-1:
First off, start vacuuming that specific area where you want to start your cleaning from. That way, you can pick up any dirt, debris, or grime before they go on the floors.
Step-2:
After that, wipe off each vinyl plank's surface by using a microfiber cloth.
Step-3:
At last, using the paper towels, consider giving your vinyl plank flooring one last sweep over the whole area to ensure an extra clean finish.
Congratulations! You are done cleaning your vinyl floor with the vacuum cleaner with ease. If you follow these above steps, I can bet you will have a stunning-looking floor in an instant.
What kind of vacuum should you use to clean luxury vinyl plank floorings?
Because luxury vinyl plank flooring is a special flooring, you cannot use a random vacuum cleaner for cleaning your floor. A vacuum with a soft brush is ideal for luxury vinyl. If your vacuum cleaner doesn't come with a soft brush, it can cause scratches to the luxury vinyl flooring. So, be very careful.
Units that are good for cleaning the soft floors can also be used on your luxury vinyl flooring. Furthermore, since excessive steam can destroy your vinyl plank, vacuums that do not create excessive steam are also appropriate.
Robot vacuum, Bissell CrossWave, Shark Rocket, Hoover FloorMate, etc., are some of the best vacuums to clean the luxury vinyl plank floorings.
Can a robot vacuum be used on vinyl plank floorings?
Of course, a robot vacuum that cleans automatically can also be used to clean your vinyl plank flooring if you're in a fix about whether or not the robotic vacuum cleaner can ruin the floor when you aren't home. Don't be concerned! This automated cleaner will not harm your vinyl flooring while cleaning it.
Can you use Bissell crosswave on vinyl plank floorings?
Sure, you can, without any doubt, use the Bissell crosswave on your vinyl flooring. It is one of the best vacuum cleaners for cleaning the vinyl surface as it erases all the dust and grime from the flooring without causing any damage.
Apart from this, if you want to make your vinyl floor both spotless and smooth, then this vacuum cleaner can be your go-to companion.
Besides having vinyl floors in your home, if you're also a pet owner, then Wet/Dry Vacuum and Mop in One Bissell Crosswave Pet Pro cleaner can be the best bet for you.
Is Swiffer Wetjet safe to clean your vinyl plank floorings?
Of course! Because Swiffer Wetjet does not contain any abrasive materials, it is also a safe option for cleaning your vinyl plank. Swiffer Wetjet comes in a variety of forms of cleaner, such as vacuum, mop, etc.
Can shark Vac Mop be used on your vinyl plank floorings?
Yes, as shark Vac Mop does not contain abrasive materials and any harsh chemicals, this cleaner can be a good option to clean the vinyl plank flooring. What's more, it removes dirt and debris along with bad smells from your vinyl flooring.
Final Words:
Well, that's all there's to it, people. Now that you've got the answer to this question, can you use a vacuum on vinyl floors? And many more related unknown things.
To sum it all up, you can undoubtedly vacuum your vinyl plank flooring with ease. If you just follow the aforementioned steps of how to clean the vinyl flooring with a vacuum cleaner, hopefully, you'll be able to keep your vinyl floor neat and clean, so the floor looks elegant all the time and lasts for an extended period of time.
Thank you so much for dropping in today, you guys are the bee's knees!!!