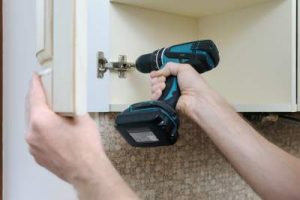 I'm sure you've all been there before – rummaging through your toolbox, trying to find the right size drill bit for that cabinet hardware you just bought.
It can be a real pain, especially if you don't have the right drill bit set. But, what's the right size drill bit for cabinet hardware? In this blog post, I'll walk you through it.
So whether you're installing new knobs and pulls or just repairing old ones, you'll know exactly what bit to use. Stay tuned!
What Size Drill Bit for Cabinet Hardware: Let's Find Out
Installing the right hardware on your cabinet is crucial. What is even more important is that you install them properly without damaging the materials. Hence, you have to be careful when you are drilling through the material to make holes for screws, knobs, and so forth.
Let's learn more about cabinet hardware drill bits.
Standard Drill Bit Sizes
As we all know, drill bits are made and used to make holes in materials. A different project may require different sizes of drill bits. Nevertheless, the experts in the concerned industry have decided upon some standard sizes of drill bits, and manufacturers, as well as the customers, seem to have fallen in love with those sizes.
Standard drill bits come in several sizes ranging from 1/16 of an inch to ¼ of an inch. Installing necessary hardware on wardrobes, cabinets, or even screwing a wall may need drill bits of these sizes. You will also find drill bits of many other sizes, such as ½ of an inch, 7/16 of an inch, 5/16 of an inch, and 3/8 of an inch.
This list explains why some people may have difficulty choosing the right drill bit for a job. Fear not, if you are having the same experience figuring out what size drill for cabinet hardware. You can learn it right here.
What is the correct size of drill bit for cabinet knobs?
Standard drill bits can come in use in most cases. However, installing a knob on your cabinet will require you to use a different drill bit size. It is okay to have your drill a bit bigger than the screw going in.
In fact, the hole should be big enough for the screw to easily go in. If the opposite happens, it may end up damaging the material from the inside. So the proper size of your drill bit for Cabinet knobs would be 3/16 of an inch.
Drill Bit Sizes for Pilot Holes
Pilot holes are pretty unique compared to regular holes and so you need a different type of drill bit to make those holes. If you are making pilot holes on softwood, suitable drill bits could be either 3/32 or 1/8 inches. That are the regular measurements, but the size can be different in a particular case.
Drill Bit Size for Cabinet Hinges
Hinges on your cabinet are something that allows the doors to swing open and close. To install hinges, you have to make holes both on the door and the main part of your cabinet. A 2mm drill bit can be used to make pilot holes. Then you will need a 35 mm hinge hole cutter to make those holes big enough for the screws to go in.
Now let's see which drill bits are best for cabinet hardware.
3 Best Drill Bits For Cabinet Hardware
When installing cabinet hardware, it is important to use the correct drill bit. A drill bit that is too small will not be able to hold the screws tightly, and a drill bit that is too large can damage the cabinets.
Here are some of the best drill bits on the market for installing cabinet hardware.
1. DEWALT Titanium Drill Bit Set
Sale
Last update on 2023-06-15 / Affiliate links / Images from Amazon Product Advertising API
Highlighted Features
Heavy-duty build quality
21 pieces of pilot point drill bits
Patented bit-bar design
Equip yourself with the DEWALT  Drill Bit Set and experience drilling performance like never before. Yes, these bits with pilot point tips deliver super speed and clear drilling to make burr-free holes every time.
Plus, this drill bit set's patented bit-bar design makes removing bits and adjusting bit placement simple, making them perfect for cabinet hardware installation. The best thing is this drill bit set offers two of each of the following sizes 1/16, 5/64, 3/32, 7/64, and 1/8th inch for more convenience.
Overall, this bit set can be a good choice for installing cabinet hardware as it offers lots of variations.
2. Hurricane 230 Pieces Titanium Drill Bit
Last update on 2023-06-15 / Affiliate links / Images from Amazon Product Advertising API
Highlighted Features
Lots of variations
Crafted from top-grade high-speed steel material
 Longlasting performance
Here is another dependable and long-lasting drill bit set for you. Made from high-speed steel for strength and durability, these bits are ideal for installing cabinet hardware.
This comprehensive set includes bits in a range of sizes, from 3/64″ up to 1/2″, making it perfect for all sorts of projects. The best thing is that it comes with 230 pieces of bits to meet your drilling demand.
The bits feature a twist design for easy drilling. The 135° tip also ensures accurate drilling. I believe the versatility of this drill bit set would make it work with any type of cabinet hardware.
3. COMOWARE Cobalt Drill Bit Set
BOSCH CO21B 21 Pc. Cobalt M42 Drill Bit Set
Cobalt M42 drill bit – provides upgraded M42 Cobalt jobber-length bits designed for...
Enhanced M42 alloy material – contains 8% Cobalt alloy that delivers 10x life vs....
High-heat resistant bits – withstand high-temperature applications for extended periods...
Thick web-helix design – provides additional stability in tough applications.Case...
Last update on 2023-06-15 / Affiliate links / Images from Amazon Product Advertising API
Highlighted Feature
Premium quality bits
Efficient drilling with fast cutting-speed
Compatible with almost all brands of drill machines
If you want to use high-quality drill bits for hardened material, this cobalt bit set would be excellent for you. This premium quality bit set offers 115 pcs of drill bits.
Moreover, all of these bits are made with a combination of HHS and 5% cobalt to provide quick and accurate results. So, you can put your trust in these small guys.
In addition to that, their twist design and 135 Degrees cutting angle will make clean holes for installing all kinds of cabinet hardware. It also includes a beautiful bit organizer box so that you don't lose the drill bits easily.
Last Words
Installing cabinet hardware takes patience and skills. Also, you need to pick the right bit for any specific task to get maximum output. As you have learned a lot about what size drill bit for cabinet hardware, I believe, you can now do your DIY projects easily and efficiently. You can also avoid drill bit fails that can, sometimes, ruin your project. So, choose the right drill bit to drill and start drilling.