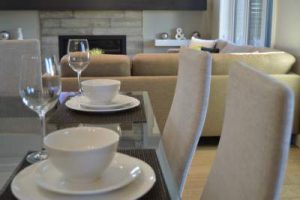 Ever imagined a dining room without dining chairs? Chances are that you have never because dining seats play a very significant role in your dining room. Besides allowing you and your family to comfortably enjoy good meals, a dining chair will also enhance the decor of your house.
But how do you choose the perfect dining chair for your needs? Well, you must consider things like its style, size, shape, and functionality. Also, you will need to assess the seat's comfort and quality as well as the shape of your dining table.
The truth is that there is so much to think about when choosing a dining chair. So, this article covers everything you might need to know on how to choose a dining chair.
WHAT TYPE OF DINING CHAIRS ARE THERE?
Dining chairs come in different styles and designs. So, read on to learn about the different types of dining seats that are there.
Also known as armless seats, side chairs are seats without arms and this makes them ideal for small spaces. Generally, the best place to place your side chair is along the long sides of a rectangular table.
As the name suggests, these dining room seats are fitted with armrests for added comfort. But because of their large size, you may not find them ideal for small spaces. Unlike side chairs, armchairs tend to look better if you place them at the head and foot of your dining table.
These chairs feature "wings" attached to the chair's back, stretching down to the armrest. But if you want them to look good in your dining room, you must place them at the head of the table.
At first glance, you might mistake parsons chairs for side chairs because of their armless design. However, you are going to realize that parsons chairs are fully upholstered while side chairs are made from a variety of materials. You can utilize your parsons seats at the fool, head, or alongside your dining table.
How to Choose Dining Chair
If you are thinking of getting a new set of dining chairs, you might not find the process as straightforward as you may think. So, here is everything you need to know on how to choose a dining chair.
Consider the size of your dining room and table
To start with, you should measure your table's height and thickness at the top using a measuring tape. Also, make sure to measure the width of the space where you plan to put your dining chairs.
It will be easier to know how many chairs will fit within the space and the dining table when you have the right measurements. Also, you will be able to determine the overall chair height or whether to get armchairs, side chairs, or parsons chairs.
More importantly, you must take into account the shape of your dining table. If using a round or square dining table, you may not need more chairs compared to if you were using a rectangular or oval table.
Measure the height & width of your dining chair
Your dining chair's width is very important. Generally, an average dining chair can be between 18 and 20 inches wide if it does not have arms. On the other hand, it can measure up to 18 inches from the floor to the seat.
So, based on the size of your dining room and table, you can choose to go with a dining chair with a wider design like the armchair. Or, you can go for seats with a narrower design like the armless dining chair.
Space between chairs and the wall
Your dining chairs need to have space between each other. This will allow you, your family, and guests to move freely in their seats. So, if you want to avoid knocking elbows with the person seated next to you, make sure to leave at least 6-inches between each chair.
In addition, you will need to consider how much space you leave behind your dining seats. You must allow enough space so it's easier for anyone to push their seats back. As a general rule of thumb, you should leave at least 36 inches of space between the chairs and the wall or whatever is behind them.
Choose the right material
The material you choose for your dining room chair will largely depend on your personal style and taste. For instance, you can choose to go with wooden chairs if you want a more rustic feel.
However, if you want chairs that create a feeling of luxuriousness and comfort, then you should consider upholstered fabric dining seats. On the flip side, though, fabric chairs can be hard to clean, especially if they stain.
On the other hand, you might want to consider metal or plastic seats if you want to create a minimalistic look. Or, if you have limited space around the dining area.
Select your preferred design and style
When it comes to the design of your dining chairs, you will need to consider the colors and even the patterns of the seats. For instance, if your walls are painted neutral colors, you can choose to go with chairs that are either light brown, beige, or white in color.
Additionally, you should take into account whether or not you want your chairs to match the dining table. Generally, you can always mix and match your dining chairs to create a cozy homely feel. However, you must make sure a common design element links your seats to the table.
Consider quality and comfort
Last but not least, you need to choose a set of dining chairs that feels sturdy to ensure long-lasting performance. Be sure to check if they are well stitched and how well the joints have been constructed.
More importantly, you must consider how comfortable the seats are. If you plan to use the seats more often, we recommend you choose fabric upholstered seats with armrests.
Do Dining Chairs Have To Fit Under Table?
Yes, it is highly recommended. Whether you are using an arm or armless dining seats, they should be able to slide under your dining table. The benefit of this is that you can freely move around the table when the seats are not in use. It also provides smaller kids with easier accessibility to the table during meal times.
Do Dining Chairs Have To Match The Table?
The answer is no. However, they need to complement each other. This means that you have to find common elements in both your chairs and the dining table. However, make sure you don't go overboard as far as colors and patterns are concerned. Just keep it simple. For instance, you could get a wooden table but the chairs are acrylic.
Conclusion
Dining chairs are made from different types of materials, including upholstery fabric, wood, metal, plastic, leather, synthetic blends, and crushed velvet. Besides that, you will find them in different styles, designs, and sizes.
Therefore, when choosing the right dining chair, you will need to consider things like the type of chair and size of your dining room. This way, you will avoid investing in chairs that don't fit the space you have. More importantly, you must measure your seat's height and width as well as the space between your chairs.