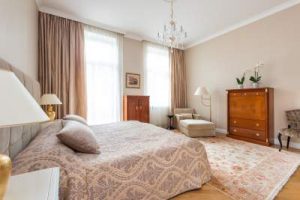 Don't have closet space to keep your clothing out of sight? Or perhaps, you just want extra storage space for your cutlery? Whatever your issue is, a modern dresser can do wonders.
Besides offering storage space, this multifunctional piece of furniture can transform the look of any room. You just need to choose a style that matches the interior design of your bedroom or kitchen. And of course, you have to consider the available space you have.
But what is a modern dresser, and is it any different from a traditional one? Also, should you go for a contemporary dresser or chest of drawers? In this guide, you will find the answers to these questions and everything else about modern dressers.
What Is A Modern Dresser?
This is a piece of furniture designed to seamlessly fit into a bedroom or kitchen with an emphasis on function. However, unlike a traditional dresser, your modern dresser will feature modern lines and finish for a sleek appearance. Also, it boasts polished surfaces and neutral designs.
However, similar to traditional dressers, your modern dresser may also come with a matching mirror on the back. The difference is that the mirror will boast a simple but modern style. What's more, a modern dresser comes in various types, sizes, and styles. Some of the common types available include:
If space is not an issue, you should get this modern dresser for the bedroom or kitchen. Also referred to as a standard dresser, this dresser is usually waist-high. In addition, it comes with at least 6 drawers, thereby providing you with ample storage space. Some models may also feature a mirror.
A combo modern dresser set is outfitted with one or two cabinets in the center or on the side. As such, it can accommodate many things with ease. At first glance, you might mistake it for a standard dresser. The difference is that a combo dresser has wardrobe doors. And when you open the doors, you will find a space for hanging your clothes and more shelves.
As the name suggests, this luxury modern dresser comprises two long columns of drawers. But depending on your double dresser, it could have about 6 to 9 drawers. This, therefore, makes it ideal for use as a couple. But because of its wide length, you should only consider it if your bedroom is spacious enough.
This type of dresser has a narrow rather than a wide design. As a result, you can also refer to it as a tall dresser. Thanks to its design, you will find it the best option if you are short of space. Fortunately, even if it takes up minimal floor space, it still does offer so much storage space.
What happens if you cannot find a modern dresser set that meets your needs? In this case, you will have to get a custom-made one. You just visit a furniture shop, and they will help you design the style of dresser you want. But of course, you will have to choose the materials based on your personal taste.
What Are Modern Dressers Made Of?
Well, they are made of different types of materials. However, most of them are built from wood similar to traditional dressers. The difference is that modern dressers made of wood feature modern lines and finish. That said, let's take a look at the different materials the dressers are made of.
When looking for a modern dresser for kitchen or bedroom, you will likely find it is made of wood. This is because wood is a durable and versatile material. However, some models are made of softwood materials and others hardwood. Compared to hardwood dressers, softwoods are cheaper and less robust.
Also referred to as rattan, this type of material is made from natural fibers or even plastic. Modern dressers constructed from wicker are lightweight, sturdy, stain, and moisture resistant. However, dressers made out of this material also incorporate wood materials.
Although not very common, there are some modern dressers made of metal. Some feature full metal construction, but others combine metal and wood materials. As such, you will find them quite strong and with a lightweight frame.
For a luxury modern dresser, you can consider one made out of leather. Such a piece features a wooden framework with leather surfaces. This gives the dresser a rich, stylish look. Even better, you might get one with button-tufted drawers.
What Do You Put on a Modern Dresser?
Your modern dresser does not need to be boring or a dumping ground for random things. Some of the things you can put on this multifunctional piece of furniture to make it more stylish include:
Wall mirror
Decorative tray
Mason or antique glass jars
Table lamp/houseplant
Picture frames/artwork
Modern vase with real or faux flowers
Should You Get A Modern Dresser Or Chest Of Drawers?
Both pieces of furniture are a great addition to any home. You can use any of them to store your clothing and other stuff since they feature a set of drawers.
Even so, you cannot use a chest of drawers in place of a modern dresser. Do you know why? Because a dresser is built to provide you with a space you can dress in front of.
Meanwhile, a chest of drawers only offers you storage space. So, a modern dresser is a better choice as it has many uses compared to the modern chest of drawers.
Conclusion
Whether you are looking for a place to stash your undies or linens, you cannot go wrong with a modern dresser. This multifunctional piece of furniture also comes in handy if you have lots of cutlery, plates, and glasses.
However, modern dressers come in different styles like horizontal, double, vertical, and combo types. So, you must carefully choose the right one for your needs.
Most importantly, you will have to decide whether you want a wooden, metal, leather, or wicker dresser. And once you've purchased the dresser, you can then decide what to put on it. This way, it won't appear dull.