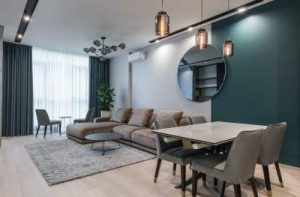 Have you ever felt you aren't getting the comfort you deserve from your regular rocking chair or swivel chairs? You probably need a swivel glider chair to take your comfort to a whole new level. But what is a swivel glider chair?
As the name suggests, a swivel glider chair has a swivel base for rotating motion, and the gliding feature will let you move the chair forward and backward. These chairs often come with a reclining feature.
To choose the right type of swivel glider chair for you, let's take a closer look at their types and features.
What Is a Swivel Glider Chair?
As we have already mentioned, a swivel gliding chair will be your best companion in terms of comfort. These chairs usually have a wide base with a low height. The seat, the back, and the armrests are heavily padded for extra comfort. You will also get leg rests on most swivel glider chairs.
But the most interesting thing about these chairs is their versatility. You can swivel the chair to reach something without getting up from the chair. The glider feature allows you to adjust your position according to your needs.
And the recliner feature lets you turn the chair into a makeshift bed for a quick nap. Some chairs even have a rocking feature to give you that soothing feel whenever you need it. Whether you lay flat on the chair while reading a book or watching TV, an upholstered swivel glider chair makes you float in the clouds.
Types of Swivel Glider Chair
Several different types of swivel glider chairs are available out there. Before you settle for one, take a look at all of them to find out what you need.
Traditional Swivel Glider Recliner
This is the most common type of swivel gliding chair. These chairs can swivel, glide, and recline to give you the comfort you crave for. But they will need a good amount of wall space in the back to recline completely.
Some chairs might have leg rests to make your sitting experience better. You can use levers or buttons to control the recline of the chair. The gliding feature is also controlled by buttons.
Power Swivel Glider Chair
This type has all the features of a traditional swivel glider recliner but no levers or buttons to manually control the recline or glide feature. Instead, these chairs are powered by electricity transform into different positions.
You can simply press a power button to recline or glide the chair. Most of these chairs will have lumbar support for added comfort. But these chairs will cost more than traditional chairs.
Swivel Glider Rocker
A swivel glider rocker exactly imitates the motion of old-school rocking chairs. They move in a rocking motion on an arch. The rocking motion happens back and forth, so you can exhale some of your stresses on glider rockers.
These chairs are very useful for elderly people, especially those who have sleeping issues. Swivel glider rockers will relax you through the rocking motion and make you fall asleep faster.
Wall-Hugger Glider Recliner
In most cases, swivel glider chairs are set a distance from the wall. They need ample space to slide and recline. But wall-hugger recliner chairs can be set adjacent to the wall.
These chairs are suitable for small homes, as they take a lot less space than other swivel chairs. But the reclining range of these chairs gets reduced. So, you might need to sit straight most of the time.
Lift Swivel Glider Chair
Lift glider chairs are nothing but a regular glider recliner with a lift feature. With the press of a button or level, these chairs recline frontwards to bring you in almost an upright position.
This feature is highly useful for people with weak knees or any kind of disability. If you can't get up from the recliner easily, the lift feature will help you out.
How to Use a Swivel Glider Chair?
Buying a chair to swivel 360-degrees may not be the primary purpose. You might want to enjoy an amazing cup of coffee while reading your favorite book. Or, you might want to lounge with your friends in the living room. Here are some ideas to make the best use of your swivel glider chair.
Putting your swivel chair in the living room will bring some character to the room. But you will need a large living room to accommodate such chairs. Try to align the chair with the sofa to blend it into the interior.
Swivel glider chairs will also fit into your bedroom. You can use the chair when you are in a mood to relax but not want to go to bed.
Placing the swivel glider chair in front of the fireplace or beside the window of your living room or bedroom will also be a good idea. You can enjoy the view and the coziness simultaneously.
What to Look for When Buying a Swivel Glider Chair?
Before buying a gliding swivel chair, you need to consider several factors. Let us guide you through them.
Make sure the chair is made of high-quality material. Wood will be great for durability.
The upholstery should be comfortable enough, even on the armrests and leg rest.
Lumbar support is a great addition to your comfort, so keep that in mind.
Pick a fabric that will resist stains and is easy to clean. Dark-colored fabrics are better as they will show less stain than light-colored fabrics.
There should be no pointy edges on the chair.
Conclusion
After a hectic day at work, the best thing you can have is the comfort a swivel glider chair offers. With several features, it will meet all your relaxing needs. We hope you have got a clear idea of what is a swivel glider chair.
It is time to sort your needs and find out the best swivel glider chair that has all the features to make your mornings more colorful and nights cozier. Whether you sit straight or lie flat, these chairs will give you the ultimate comfort.