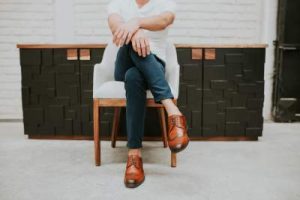 Thinking about giving your chairs a facelift? Well, instead of replacing all your seats, which can be costly, one of the most affordable ways would be to replace your chair legs. You see, legs are great enhancements and can quickly improve the look of any chair.
And the best part about replacing your chair legs is that it can help extend your seat's life. But how do you replace chair legs? Besides removing the old legs and attaching the new ones, you have to find the right replacement. And to do this, you need different tools and materials.
Luckily for you, with the help of our guide on how to replace chair legs, you can quickly replace the feet in the comfort of your own home.
REQUIRED TOOLS AND MATERIALS
Before you even start replacing your chair legs, you need to have the right tools for the job. This is the only way you can do a clean job with ease and in a short time. Some of the essential tools you will need include:
Hand saw
Drill with the right size drill bit (1/2-inch)
Plastic paint scraper
Handheld screwdriver/ hammer
Paint remover and brush
Safety gloves
Wood putty
Varnish or any finishing solution
Replacement legs
How to replace chair legs – Step-by-step guide
Replacing your wooden chair legs can be a challenging task, especially if you don't know exactly how to go about it. But don't worry because our guide will take you through all the steps.
Step 1: Detach your chair leg(s)
Before you start removing the leg, first wear your safety glasses. Then, find a sturdy working surface and place your seat upside down. After that, try locating the screws and nails that hold the legs to your chair's main body.
Once you spot all the screws, the next thing to do is remove any excess filling or gum around the screws to expose them. This way, it will be easier to remove the nails.
Generally, if your chair has nails, you should use a hammer to remove them. But if the legs have been fixed using screws, you get to use a screwdriver instead. With the screws or nails out of the way, you can freely pull out the legs that need to be replaced.
Step 2: Choose replacement legs
Start by looking for a store or someone that sells a variety of chair legs replacement parts. It could be in a hardware store or even your local woodwork store.
However, to ensure you get the right replacement, you should consider carrying the legs that you want to replace when visiting the store.
And if possible, you might want to bring your chair with you to the store. This way, you can easily confirm that the leg is a good fit for your chair.
Step 3: Make any necessary adjustments
Sometimes it might be hard to find a replacement chair leg that is of the right fit. In this case, you just have to go with legs that seem to be a close fit for your chair. But of course, you have to be willing to make some adjustments.
For instance, if your replacement legs are a little longer than what you need, you can use a hand saw to cut the excess length. Then, use sandpaper to make the new legs relatively smooth around the area you've cut.
Step 4: Paint your replacement legs
When looking for replacement chair legs, chances are that you won't find an exact replica of your old seat's legs. Even the color could be different and not just the size.
Therefore, you will need to paint your new chair legs with the same finish as that of the rest of the legs. Simply get a varnish or any finishing solution with the same color as the other legs.
After that, apply paint remover on your new leg using a paintbrush. And using a plastic scraper, start removing the old finish. Next, coat the replacement legs with the varnish solution so that they match the rest of your chair's legs.
Step 5: Drill holes
Once the varnish solution has dried up, you will need to drill holes into the legs. However, this step only applies if your new legs don't come with pre-drilled holes.
First, clamp the legs to a tabletop for ease of drilling. Then, using your drill and a 1/2-drill bit, make the right size hole and at the right location along the length of the leg. Also, the hole you make must be of the right depth based on the size of your screws.
Step 6: Fix the new legs to the chair
Lastly, get your screws and insert the tip into the pre-drilled holes. And using your handheld screwdriver, drive the screws into the wood until your replacement legs are securely attached to the chair.
Although optional, you might also want to add a chair leg brace where the leg meets the seat for added strength.
Next, apply some wood putty on the chair legs and especially around the sections where the screws are. This will help conceal any minor imperfections on your chair's legs. Leave the putty to dry off completely before you can start using your chair.
Why replace your chair legs?
Overall, there are so many benefits that come with replacing your chair's feet. It does not matter whether your chair is wooden or metal. Some of these benefits include:
Protects and extends the legs of your chairs. However, you must make sure to use only high-quality replacement legs that are made from durable materials.
Can help protect your flooring from becoming damaged or scratched.
May help minimize the noise experienced when you are dragging your chairs across the floors.
Adds new life to your chairs. This is because having seats with shabby or unkempt legs can significantly reduce their value and appeal.
Will help enhance your decor by allowing you to choose whether you want a contemporary or classic look. Besides, you can even have the legs custom designed to match the rest of your decor.
Conclusion
As you have seen in our guide, the process of how to replace chair legs is quite simple. Therefore, anyone can do it as long as you have a little woodworking knowledge. All you need is a good chair leg repair kit consisting of the right tools and materials, which you can easily source from your local hardware store. But most importantly, you must know the correct procedure to follow to ensure you do a clean job.
So, the next time you realize that one of your chair's legs is damaged, just replace them. It will be cheaper compared to buying a whole new set of chairs.