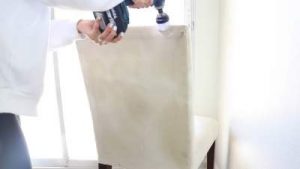 Many people consider fabric upholstered dining chairs to be one of the essential features of a dining room. Not only do they add style and comfort, but also maintaining their appearance can be a daunting task.
So how do you clean fabric dining chairs? There seems to be no escaping the fact that cleaning fabric dining chairs is a must if you want them to look their best.  If you're up for the challenge, there are a few things you can do to clean your chairs on your own.
This blog is going to discuss how to clean stained fabric chairs. Let's find out more!
What Can You Use To Clean Fabric Dining Chairs?
A vacuum cleaner, a fresh towel and cloth, some rubbing alcohol, some liquid detergent, and some white vinegar will do the trick. Fabric dining room chairs need to be vacuumed regularly to remove dust, crumbs, and filth.
When you vacuum out the nasties once a week, you prevent the filth from being embedded in the fabric. And you maintain the item to appear clean and new.
However, if you have chairs that are starting to look a little bit dingy and dirty, try clean fabric dining chairs with baking soda. This method is very simple – all you need is some baking soda, some water, and a cloth towel.
Just wet the cloth towel and wring it out. Then, sprinkle the baking soda over the fabric chair. Rub the baking soda into the fabric until it's clean. Finally, rinse the fabric with water to clear it off.
How Do You Clean Fabric Dining Chairs?
All you need to do is follow these steps to clean stained fabric chairs.
Step 1: Determine the kind of cloth.
Use just the cleanser suited for the sort of cloth you are working with. Cleaning care labels or a small test area should be used to determine the appropriate cleaner before using it on a larger area.
Second, use a vacuum cleaner to get rid of the dust and debris that has settled.
Loose dirt may quickly settle in, leaving a brand-new stain. Prevent such from occurring by cleaning your chair periodically.
Step 2: Make up your own medicine.
Fabric chairs may often be cleaned using a do-it-yourself solution, whereas vinyl and suede seating will typically not be suitable with furniture polish.
Make your water solution if the fabric of the chair can handle it. In a bowl, whisk up water and soap, with liquid forming ¾ of the solution.
Apply a tiny quantity of the solution on a washcloth, and wipe the spot to clean upholstery chairs without a machine.
Step 3: Hydrogen peroxide
You may also use hydrogen peroxide on any stained portions of a fabric chair. To do this, just put hydrogen peroxide on a cloth (use microfiber for optimum results) and dab the stain.
To ensure that hydrogen peroxide will not damage the upholstery, a test should be performed on a tiny area first.
Step 4: Deep Clean A Fabric Chair Using A Steamer.
The use of a steam cleaner, as opposed to just blotting, will result in a more thorough cleaning.
When using a steam cleaner to deep clean a fabric chair, it's important to wait until it's completely dry before sitting in it again so that moisture doesn't become trapped.
Things to Consider When Cleaning Fabric Dining Chairs
Do you have a favorite fabric dining chair that needs a good cleaning? Here are some things to consider before getting to work:
Determine if the fabric is easy to clean or if it needs special care.
Is the chair made of wood or plastic? Wood chairs can be cleaned with a simple cloth and soap, while plastic chairs require special cleaners.
Are you cleaning your fabric dining chairs this weekend? If so, be sure to check for any cracks or tears in the fabric. These small defects can lead to major problems if not fixed quickly, like a tear in the fabric that will cause the chair to collapse when used.
Check the seams, and anywhere there is a lot of stress on the fabric, such as around buttons or zippers. If you find any tears, be sure to fix them before using the chair.
Next, be sure to dry the chairs completely before storing them away.
Finally, avoid using harsh chemicals on the chair fabric and be careful not to stretch or tear the fabric while cleaning.
Ensure suitable product to clean fabric chairs.
Final Words
There are many ways to clean fabric dining chairs. It is important to find the right method for your specific chair material. Before you clean the entire chair, make sure you test the cleaning method in an inconspicuous area first.
With a little effort, your fabric dining chairs can be clean and look new again. So, how do you clean fabric dining chairs?
Cleaning fabric dining chairs is not a difficult task. By following the simple steps outlined in this article, you can have your chairs looking and smelling fresh in no time.
So don't wait; get started today!