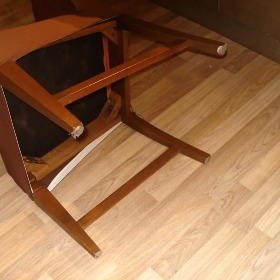 Nowadays hardwood flooring is the first preference for anyone who wants to renovate their house. However, they do have some concerning issues that you may notice.
When chairs, tables, and other furniture drag over hardwood floors, scratches are often left out. Furthermore, they are only beautiful due to their unmatched sheen; if they are even slightly scratched, the entire object just becomes unappealing.
So this brings us to how do you keep chair legs from scratching hardwood floors? and keep them from leaving marks. There is a lot to cover so let's dive down below!
Does Every Chair Leave Scratch Marks On The Hardwood Floor?
Well, the answer is subjective. Here's the thing, hardwood floors are extremely appealing but they're exposed to scratches. So when you drag any object from the floor or anything is spilled or crashes down, it leaves scratches on hardwood floors.
It can also be expensive to repair the whole or a portion of hardwood flooring. So it's best to have protective measurements equipped to avoid scratching. Better safe than sorry!
Some chairs may not leave scratching on hardwood floors. Felt pads, or floor guards for chair legs, are already affixed to the legs of these chairs. When pushed through, they behave as anti-scratch material to avoid scratching. Additionally, they are finished with a smooth surface to make it simpler for them to glide across the surface.
To prevent them from scratching hardwood floors, many chairs that do not come with felt padding need to be modified. You don't have to spend a lot on them because they can be quite affordable!
How Do You Keep Your Chair Legs From Scratching Hardwood Floors?
There are a lot of tools and a lot of ways to avoid getting your hardwood floor scratched. We will try to explore these in-depth as much as possible.
Some need you to buy equipment like rubber floor protectors for chair legs to prevent scratching. That will allow you to put them anywhere without having an issue. While some just need a basic strategic sense to avoid scratching.
So how do you keep your chair legs from scratching floors? Here's how:
Keeping furniture on Rug/Carpet
They're an interesting take. Keeping your furniture in the area with carpet removes a lot of hassle to move them throughout the house. This helps you to be worry-free. Moreover, you can also use carpet throughout the floor to avoid scratching. Though you can avoid scratching it loses the eye appeal of hardwood flooring.
Chair Glides for floors
Another cost-effective method is Chair Glides for hardwood floors. These glides keep chairs a bit high while the bottom touching floor is a soft material. This helps to avoid scratching through the floor when moving the chair.
Use a chair legs protector to avoid scratching.
Legs protectors are a great way to move furniture around without scratching. There are rubber floor protectors which are perfect for this as they reduce the chances of chair slipping.  They look like rubber forks attached to the down end of chair legs. Yet, you should consider adding them if you have multiple pieces of furniture around your place.
Rubber floor protectors are an alternative to felt pads for chairs. So you have to choose which one you want. Both are appealing and prevent scratching on hardwood floors.
List of Chair Leg Protectors For Hardwood Floors
So now we know what chair leg protectors are. Thus, you should also know what types of protectors there are available in the market. On the other hand, if you don't then you will be left confused about which one to get. Down below is the list of chair leg protectors for hardwood floors:
Felt pads (most preferable)
Rubber protectors for chair legs are great and frequently used too.
Silicone chair leg protectors
Ruby sliders
Snap-On Felt Glides
These are the frequently used chair leg protectors that are advisable to use on hardwood floors.
Conclusion
Hardwood flooring is a great choice for a warm and cozy home. That said, the furniture that stays on hardwood floors may cause scratches that can be a great issue for owners. Not only does it make it annoying, but it can also be expensive to repair the floor.
So it's best if we use protective measures beforehand to prevent scratches in the first place. So, how do you keep chair legs from scratching hardwood floors? Protective measures include chair leg protectors or floor protectors. They're cheap, reliable, and can help you to keep your chair legs from scratching hardwood floors.