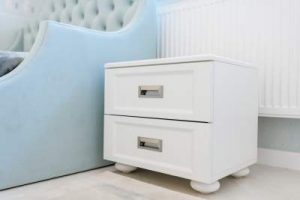 Having a storage cabinet for small spaces can be a lifesaver for any homeowner, especially when everything's in a mess, and you don't have enough space to set up a traditional large cabinet. They provide ample storage options, but they can also be stylish and functional.
With those thoughts in mind, I've listed 5 of the best storage cabinets for small spaces that come with an elegant design. Besides, the durability standard of each cabinet pledges to last years.
These cabinets can be a great option for spaces that aren't large enough for traditional cabinets or shelves. They're also a good choice if you need more versatile storage than just shelves. Depending on the size and type of cabinet, you'll be able to find one that fits your needs perfectly. Read along to learn more about these.
Quick Summary
5 Best Storage Cabinets for Small Spaces
After a rigorous inspection, I've come up with the five cabinets that're perfect for smaller spaces. Let's find out why!
Last update on 2023-06-14 / Affiliate links / Images from Amazon Product Advertising API
1. Bush Furniture Key West Storage Cabinet And Secretary Desk
Sale
Last update on 2023-06-15 / Affiliate links / Images from Amazon Product Advertising API
Whether you're planning to decorate your office or home, this storage cabinet can enhance the look. It's also a perfect workspace for small areas.
For both design and durability, the cabinet gets full marks. The pure white oak finish is beautiful and will complement any office or home setting. I prefer oak wood furniture because it can resist water damage. Also, they tend to last longer.
Thanks to the smooth finish also, it's easier to clean. Plus, the neutral color matches any home décor, also making it perfect for offices.
The desk comes with a dimension of 30W x 20D x 30H inches, giving you adequate space to store your stuff. Also, it's easy to fit even if you have a narrow space to add new furniture.
Without the file cabinet, there's also a tray that you can use to store laptops, stationeries, or keyboards.
The storage cabinet comes with multiple full-extension ball-bearing slides on every drawer. These feel convenient when storing or picking out stuff. There is also a flip-down front that makes it easy to access the drawers.
Another reason I found this secretary desk user-friendly is because of the adjustable shelves feature that makes it comfortable to access.
This desk is made with beautiful European-style hinges. Besides, there're polished X pattern accents to make it a good match for any modern office space.
Overall, if you want a stylish and functional desk, I believe investing in the Bush Furniture secretary desk will be the best decision.
Short Verdict
If you're looking for a modern-style cabinet that you can use for file storage and a computer table, this is the right suit. It's not recommended for the complex assembly process.
2. Keter Store Flat Panel Storage Cabinet
Last update on 2023-06-15 / Affiliate links / Images from Amazon Product Advertising API
The brand is a well-known brand for creating durable and high-quality furniture. And this flat panel storage cabinet is no exception. The cabinet has a sleek and modern design. It's perfect for storing your kitchen stuff, stereo or hardware equipment, and other large items.
There're 5 shelves crafted in this cabinet to help you keep your belongings organized. You can load up to 55 lbs. of stuff on every shelf.
Before picking this almirah-like cabinet, you need to consider the dimension. The Keter Store flat panel cabinet has 72.6 inches of height and 17.6 inches of width. Yes, it's big enough to organize enough mess. But make sure to figure out whether it fits your available space.
The door is lockable, so you can safely store sensitive chemical-related things out of toddlers' reach. I would appreciate it if Keter added a padlock in this cabinet, as many flat-panel storage cabinets come with one nowadays.
I recommend this storage cabinet mainly for its durable resin construction. You don't have to worry about rust, rot, and moisture.
Short Verdict
It's suitable for setting up in the basement, laundry room, bathroom side, and garage. Don't go for it if you're looking for a metal cabinet.
3. South Shore Small 2-Door Storage Cabinet
Last update on 2023-06-15 / Affiliate links / Images from Amazon Product Advertising API
Laminated particleboard furniture is a good choice if you want to save your pocket. They cost you less than regular wood-made furnishings. Also, the construction type is usually resilient. And this storage cabinet is the same.
South Shore built this low-profile cabinet with North-American safety standards. It's eco-friendly and an all-purpose cabinet for home, outdoor, and office. Because of the traditional outlook, some may criticize it, but it has some modern features inside it.
An adjustable shelf lets you customize different settings to store different sizes of items. You can store clothes, shoes, stationeries, and office equipment as you prefer.
As followed by a 2-door design, you'll feel convenient to get access to your stuff. Since there are no glasses on the front, stored bits and bobs are always hidden from the guest.
The cabinet has a slightly bigger width (32.88-inch) and height (32.38-inch) than the Bush Furniture low-profile cabinet mentioned above. The 19.38-inch depth provides the required space to store different items.
Without the most-sold royal cherry color, there're some more options like pure black and white. Also, there's a weathered oak, which's my favorite but will cost you more.
Short Verdict
For those who want a lightweight and low-profile storage cabinet, this is the best choice they can get at this price point. It may not be a good suit as laminated particleboard gets discolored if contacted with high moisture.
4. Hodedah 4 Door Kitchen Pantry Cabinet
Sale
Hodedah 4 Door Kitchen Pantry with Four Shelves, Cherry
Note : To ensure proper assembly, please follow all steps provided in the installation...
Four door storage cabinet with four shelves
Three adjustable shelves for easy and organized storage
Great for extra storage space in kitchen, bathroom, and laundry room
Last update on 2023-06-15 / Affiliate links / Images from Amazon Product Advertising API
The brand has an extensive list of furniture lines, including beds, carts, sofas, futons, desks, chairs, and the list goes on. Hodedah is also known for its affordable and high-quality fittings. This pantry cabinet also seems to follow their trend.
For kitchen storage needs, pantry cabinets have become quite popular in the last few years. There're some reasons why I'm considering this closet over other market options.
Firstly, it has a 72-inch height and around 24-inch width size, sufficient enough to give you large storage space. However, the smaller depth inside is a little concerning if you've got a heck load of kitchen utensils.
The pantry cabinet is divided into two portions with a fixed shelf in the middle. So, you can choose to store bigger items on the lower shelves and lighter items on the upper section.
Unlike typical sliding door pantry cabinets, this one comes with 4 separate doors for every shelf. It makes it easier when storing or picking items.
I should admit, it's my favorite cabinet design among the rest mentioned in this post. And that's because of its cherry wood craftsmanship. Not only for the well-detailed design, but this cabinet is also highly preferable for longevity.
Without the cherry color, there're also beach-black, black, white, gray, and solo beach colors to choose from.
Though the pantry cabinet is mainly for kitchen storage needs, you can also set it aside from the bathroom or laundry room due to its compact size.
Short Verdict
It's a perfect cabinet for smaller spaces. However, it's not recommended if you're not comfortable with a lengthy assembly process.
5. Sauder 419496 Miscellaneous Storage Cabinet
Last update on 2023-06-14 / Affiliate links / Images from Amazon Product Advertising API
This cabinet is not only useful for storing small odds and ends, but it's also a great place to store larger items like books, tools, or laptops.
Unlike the rest of the picks mentioned on this list, this Sauder cabinet has the adjustability feature on all 4 shelves, so you get more control over how you want to organize your items. Also, it's easy and quick to customize the settings.
Getting this storage cabinet means you get extra in everything. It's tall and has a good depth. The overall dimension is 29.61-inch (Depth) x 16.02-inch (Width) x 71.5-inch (Height).
The full-width upper shelf is another good aspect of this cabinet. It provides plenty of storage for groceries and other items when using it in the kitchen. Because of its versatile design, you can also match it in other rooms of your home, such as the basement, garage, etc.
Above them all, the main thing that catches my attention is the colors. It comes with cinnamon cherry, highland oak, and a soft white finish. So, it matches well whether you want to set it in dining, stair-side, or office.
Just like other Sauder furniture, this one is also easy to install. Pop parts out of the package, follow the instruction manual, and that's all. And if you find any difficulties, Sauder provides a 24/7 customer care service to resolve any issues.
Short Verdict
It's highly recommended for small to medium spaces. Don't go for it if your place has a frequent moisture problem.
Things to Consider Before Buying
Many online buyers make the most common mistake of not inspecting the features before ordering furniture. So, make sure to check out the aspects below first.
Determine Your Storage Needs
Before you buy a storage cabinet, it's important to determine your storage needs. What kind of things do you need to keep in your cabinet? How many items do you think you'll ever need to store?
Depending on your answer, you should pick a cabinet that offers an adequate size for storage.
When considering the size, depth is also an important factor, just like height and width. A good depth allows more space for storage.
Make Sure It Fits the Space
You must ensure it fits the space you've available. If you have a small area, it's important to think about how you'll fit the new storage solutions.
Choose a low-profile cabinet if the available space has a low ceiling. If the ceiling or top isn't an issue, a taller storage cabinet is a good option when more storage space is mandatory.
Consider Color, Texture, and Style
Now, these considerations are more about your taste, the existing furniture, also sometimes your overall room interior where you'll be setting up the cabinet.
If you've classic style furniture, then picking up a similar style or color can result in a well-thought decoration in front of your neighbors or guests. Your next addition should complement your home's decor.
Having a smooth texture on the cabinet can be a plus. It's not only for the look; it also gives advantages when cleaning because dust doesn't stick to the frame.
Look for Quality and Durability
You don't want a cabinet that will quickly break or one that will be difficult to work with. Make sure the cabinet is made from durable materials to last long. Remember, the weightier means more durable; this's nothing but a myth.
Some modern cabinets are made with laminated particle boards that tend to be lightweight and can resist rust, rot, or moisture. There're also oak or cherry wood-made cabinets that last a few years smoothly.
Adjustability of Shelves
New age cabinets have numerous adjustability features that you may not see in traditional furniture. And it's a vital factor to look at because, with an adjustable shelf feature, you can customize or organize items as your preference.
Also, check out the number of shelves and their sizes. Sometimes having more shelves is good if you're storing small items. Decide according to your plan.
Assembly Challenges
If you don't want to pay a service guy to assemble your newly bought cabinet, you obviously need to set this up yourself.
Since you're most likely not a professional, it's better if your cabinet is straightforward to install.
I won't consider the weight too much as I don't switch my furniture after setting up. If you like to experiment with the position often, check out the cabinet's weight also.
Look for Brands that Stand Behind their Products
One of the most important things to consider when looking for a storage cabinet is the brand that it's being sold by. Make sure that the cabinet you're buying is from a reputable company.
A manufacturer with good brand value shows they have a history of high-quality products and customer loyalty. Another advantage of buying from a popular brand is that they offer a warranty often. So, if anything comes up faulty, you can ask for a refund or exchange.
Sauder, Bush Furniture, and Hodedah are some of the well-known brands in the furniture industry.
Frequently Asked Questions
1.  How to decide the right dimension of storage cabinets?
The storage cabinet you want to buy should match the available space where you'll be setting it up. Measure the width and length of the space and then check if the cabinet has the diameter to fit in. Also, consider the height of the ceiling if buying a tall-profile cabinet.
2. What is the weight capacity of the storage cabinets?
A weight capacity of a storage cabinet is the total weight of items you can load onto it. Depending on the wood used in the cabinet, it may vary.
3. How deep should storage cabinets be?
It depends on your storage purpose. Having a deeper cabinet means you'll get more space inside the cabinet. So, it's better to look for a larger depth. In general, the typical wall mount cabinets have 14-inch to 24-inch depth. Some below-counter cabinets feature up to 29-inch depth also.
4. How do I increase storage in my kitchen cabinets?
There are a few things you can do to increase the storage in your kitchen cabinets. One option is to install cupboard organizers. These organizers come in many different shapes and sizes, and they can help you maximize the space in your cabinets.
Another option is to install shelving. This type of storage can be helpful if you have a lot of cookware or dishes that you want to keep organized.
5.  What are three storage options for cabinets?
There are three main storage options for cabinets: built-in, floating, and wall-mounted cabinets. Built-in cabinets typically have a side or bottom panel that slides out to provide more space.
Floating cabinets have shelves suspended by brackets from the wall and can be adjusted to different heights. Wall-mounted cabinets typically have doors that open on either side and can hold many items.
Editor's Verdict
In conclusion, if you are looking for the best storage cabinets for small spaces, I recommend the following two options: the Bush Furniture storage cabinet for low-profile storage needs and Keter Store flat panel cabinet for tall-profile.
These units are affordable, easy to assemble, and come in various sizes to suit any purpose. So, if you need a good storage solution for your home, be sure to check out these options!