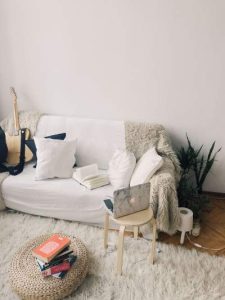 Binge-watching movies or drama series becomes much more fun with a comfy floor chair. You can even use them for cozy gaming sessions when your friends come over. Or think of reading your favorite book in a calm environment, sitting on a chair close to the earth.
What is a floor chair?
A floor chair usually sits low on the ground and comes with no legs. Most floor chairs even don't have armrests. Only the seat cushioning and the backrest are there to give you enough support and comfort.
Let's get to know more details about floor chairs.
Floor Chair Types
Floor chairs come in a variety of shapes and designs. Depending on the purpose of these chairs, they are categorized into several types. Let us introduce you to all the types.
Lounge Chairs
Lounge floor chairs are the most versatile and comfortable floor chairs out there. You can use them for reading books, watching TV, having a chit-chat with your partner, or enjoying amazing sunsets on the patio.
These chairs are made with very comfortable inner and outer materials. They usually have no armrests. Seat cushioning on a padded floor chair is suitable for people of all ages.
Gaming Chairs
Playing games on your sofa or couch is outdated now. Using floor gaming chairs brings a new level of joy if you have several friends coming over. These chairs will also serve as seating arrangements for yourself and your friends.
If you play games for a long time, sitting at the same chair on your gaming setup might be exhausting. You can take a break by switching to a floor gaming chair that has enough cushioning and back support.
These chairs might have armrests but not on all models. So, you should choose the right one according to your needs.
Swivel Chairs
Floor swivel chairs have a wide base at the bottom and a swivel mechanism so that you can rotate the chair while being comfy. These chairs are also great as lounge chairs.
Though swivel chairs are mostly used in the living space, you can set them on the outside too.
Bean Bag Chairs
These chairs are a great way to alter the look of your home. They are made of foam pellets and can have armrests, cupholders, and storage boxes for more convenience.
The comfort of bean bag chairs is next level. They conform to your body shape to give you maximum comfort.
Foldable Floor Chairs
A foldable floor chair comes in handy if you are throwing a party in your house and need additional seating space. As they can be folded, they will take a little space in the storage. When unfolded, they will provide a comfortable seating experience anytime, anywhere.
What are Floor Chairs Made of?
Floor chairs can be made of different materials. The comfort and durability of a low floor chair will mostly depend on its material. Here are the most common materials used to make floor chairs. We divide them into two categories, the shell, and the filling.
Shell Material
The outer shell of floor chairs is commonly made of cotton, polyester, or synthetic leather. Cotton is considered the most comfortable and durable material for the shell of floor chairs.
But cotton can fade and stain easily. So, it isn't suitable for outdoor use. Synthetic leather is stain-resistant, but it might crack over time. Polyester shells are versatile, and you can clean them quite easily.
Inner Material
The filling of floor chairs is mostly made of memory foam, P foam or Polyurethane foam, pellet foam, etc. Memory foam chairs are very comfortable. As it conforms to your body shape, you will have ample support from memory foam.
Polyurethane foam is commonly used in inexpensive chairs. Its durability is much lower than memory foam. Under heavy loads, polyurethane foams can warp quickly.
Pellet foam is used in bean bag chairs. It will provide you with enough support and has excellent durability.
Advantages and Disadvantages of Floor Chairs
While floor chairs seem intriguing, they have some downsides too. Let's discuss their pros and cons in detail.
Advantages
Floor chairs are mostly used for enhancing comfort. Sitting on regular chairs can cause back pain and other issues. But if you use a floor chair with back support, you can sit longer than usual without any adverse effects.
Regular chairs are mostly made of plastic or wood that deteriorates over time. Floor chairs have robust material to withstand heavy usage for an extended period.
Some floor chairs are foldable, so you can fold and store them to save some space.
Foldable chairs are of great use when you need some extra seating arrangements.
With an adjustable floor chair, you can tweak the sitting posture to match your preference. It isn't possible in regular chairs, so you will experience better comfort in floor chairs.
Some chairs come with additional features such as armrests, cupholders, recline options, and many more. These features give you a better seating experience than a regular chair.
Disadvantages
Floor chairs are usually a lot more expensive than regular chairs. Though they have many additional features, affording one might not be suitable for everyone out there.
Wood or plastic chairs are generally more resistant to stain. But the risk of staining a floor chair by spilling coffee or juice always remains.
Floor chairs take more space than regular chairs. So, they aren't suitable for small households.
Conclusion
Relaxing on a bean bag chair or lounging on a floor chair sounds very cozy. The comfort of these chairs is noteworthy. However, you will have to invest a significant amount of money to enjoying the luxury.
Still, floor chairs are gaining popularity because of their durable construction with comfortable material, back support, adjustability, and other features. The foldability is also one of the major factors behind them trending.
We hope you have got enough idea about what is a floor chair. Why don't you try one and change the appearance of your living space to spend some quality time?