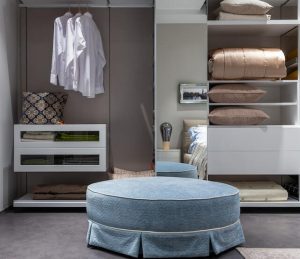 When you first move into a new home, your primary concern is how to organize your rooms to be neat and spacious. When deciding whether to put a dresser in closet or bedroom it all depends on how much space you want to save.
You can install a dresser in a closet if the closet is large enough. Moving your dresser into the closet saves space in your bedroom and allows you to organize your folded and strung items in one location.
Putting a dresser in the closet is the way to go if you have a small bedroom. It saves space and keeps your bedroom from having inconvenient layouts. Let's look at how to place a dresser in a closet and some ideas for organizing a dresser.
Tools Required To Put A Dresser In A Closet
To install a dresser in a closet, you need a few tools like;
Kreg Pocket Hole Jig
Drill/ Screwdriver
Table Saw
Drawer Slide Jig
Tape Measure
Pencil
Safety Glasses
Dust mask and ear puffs.
Plywood sheets
Dresser
Screws
Closet pegs and rods
Caulk
How To Put A Dresser In A Closet?
The first thing you need to do before putting a dresser into your closet is to measure how big your closet is. Smaller closets will not fit big dressers. In this case, you will have to build DIY closet shelves.
When putting a dresser in a small closet, consider the closet's depth. Why? Because you need both closet doors to open up to access the dresser's drawers.
It must be relatively centered; if it is completely to one side, the front wall of your closet will prevent the drawers from opening. Using a dresser with vertical drawers is best if your closet space is limited.
In a walk-in closet, putting the dresser is always preferable to create a nice layout and ensure your closet is navigable. If you have an already existing dresser, test how your dresser's drawers open; many dressers have drawers on sliders that do not fully expand.
Here is how you put a dresser in a closet.
When building your dresser shelves, ensure you wear protective wear like ear puffs, a dust mask, and safety glasses.
If you do not have a dresser already, you can make your built-in dresser in the closet. Start by building the dresser. First, remove the dresser's legs to minimize the dresser's height for easier accessibility and a more presentable appearance.
It is only necessary to remove the dresser's legs if you are dealing with a small closet. You can also do it if you feel it is too high to access or too high that it will take up too much space..
If making your DIY dresser shelves, cut the plywood sheets into your desired length (preferably using your closet's dimensions).
Using the Kreg jig drill, make holes in your pieces of wood. Ensure they are perfectly situated, assemble your pieces, and screw them together. You now have a dresser. Add sliders in the dressers so that your drawers slide easily into your dresser.
Using the table saw, cut your drawer boards into the correct size to fit into the dresser you have already made. A table slide jig helps level the sliders easily.
Now mount your drawers into the dresser and ensure they are leveled up. You can use edge banding to prevent the blunt edges of the plywood from showing.
For the finishing, prime the drawer boards and the body of the drawer with a primer and seal them with a poly product. Sand the boards to make them more uniform.
Measure the closet peg board parts; if they are too tall, you can remove them and add some that are uniform with your dresser's dimensions.
In a spacious walk-in closet, you do not need this step because you can choose to center the dresser in the middle of the closet without having to interfere with the closet hanging rods.
When putting a dresser in a small closet, you need to consider if you want to utilize the top part of the closet and, if so, leave enough room between the dresser's frame and the top part to move goods into the closet easily.
Attach the dresser with screws to the side walls of your closet. Trim the drawer shelves to the correct width to fit the dresser completely. Make sure the jig holes are facing outward. Add the drawers to the dresser and add drawer fronts.
Caulk all cracks and corners to have a much more polished look. Re-install the closet rods above the drawers.
How Do You Organize A Dresser In A Closet?
After managing to set up your dresser in the closet, the next step is to know how to organize the dresser. So that it blends in with your closet. A dresser's main purpose is to hold folded clothes, T-shirts, jeans, scarfs, undergarments, and accessories such as jewelry.
If you have a walk-in closet, it would be best to place the dresser by the wall or at the center. If it is a small closet, the dresser can go under your closet's hanging rods under your hanging clothes.
Other dresser in closet ideas are anchoring built-in dressers to the floor, suspending them from the wall, or the basic built-in dresser wall unit we discussed above.
Do not fold bulky clothes. Rather, hang them on your closet rods. You can use dresser organizers to declutter your drawers. Ensure your dresser components are all folded and placed neatly in each drawer to avoid overflowing drawers.
If you choose to have the built-in dresser wall unit as your closet's centerpiece, you can add a mirror on top of the dresser or some ornamental plants to make it more attractive.
Conclusion
By relocating all storage to the closet, a built-in dresser in closet removes clutter and frees up space in the bedroom. In addition to maximizing every inch of space in your closet, these built-ins provide more storage.
To make your closet more presentable, ensure you hang all bulky clothes, fold all light clothing, and put them in your dresser's drawers. You can add DIY closet shelves if you require more dresser space.
To answer the question of whether to put the dresser in bedroom or closet, put it in your closet to have more space in your bedroom.