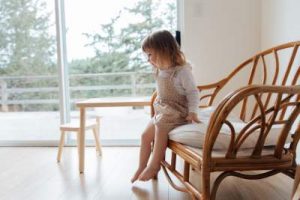 Making a small wooden chair for child is not rocket science. If people knew how easy this is, they probably wouldn't spend too much on it. Can't believe it? Well, come along with us. We will show you how to make a child's chair in a very smooth way.
We have shared the whole process in just 4 simple steps. You can make the chair in a few hours by following these steps. So better not hurry, just go through part by part. Once it's done, decorate the chair in your own way.
However, this instruction is not only for wooden chairs. If you want a plywood chair or anything similar to this. You could follow this instruction for all.
Materials and tools required to make a child's chair
When you have already decided to make your child a chair, you have to follow the process very gently. But before that, you need to manage the necessary tools to make this process more spontaneous.
Here we will try to use very basic tools, which can be found in your house or the nearest super shop.
A chair typically contains three parts: Leg, seat, and back post. However, sometimes we use a frame.
Let's check out the materials and tools.
| | | | |
| --- | --- | --- | --- |
| Parts | Materials | Size | Quantity |
| Front Legs | Wood (mahogany, oak, maple poplar,) | 15 inches long (1/3 or 3/4 inch x 2 ½ inch) | 2 |
| Back Legs | Wood | 27 inches long (1/3) | 2 |
| Seat | Wood | 13 inches long (1/3) | 5 |
| Back Post | Wood | 12 inches long (1/3) | 2 (But you can also use 4 piece) |
| Front And Back Frame | Wood | 12 inches long (1/3) | 2 |
| Side Frame | Wood | 14 inches long (1/3) | 2 |
Tools
Measuring Tape
Hand Saw/ Iron Saw
Hammer
Nail/ Treenail/ (minimum 40 pieces)
Glue/ Wood Putty
Pencil/Marker
Color
Hand gloves
Measurements for making a child's chair
We have already shown the basic measurement. Now we need to focus on the wooden toddler chair plans. Because without a detailed plan, you will not be able to finish it on time.
Here, we have taken 4 legs for chairs. 2 legs for the front and the other 2 for the back. The front two legs should be shorter than the back legs because the back legs will cover the back post also.
So our front legs would be 15 inches long, whereas the back leg would be 27 inches.
For the seating area, we will take 5 pieces of wood. All the pieces should be identical, and the size must be 13 inches each (1/3 or 3/4 inch x 2 ½ inches). We will place them side by side to cover the seating area.
We have a total of four pieces of wood for the frame. Two for the side and 2 for the front and back. The side frame needs to be 14 inches (1/3), and the front & back frame should be a little shorter, which is 12 inches (1/3) each.
Finally, we will take either 2 or 4 pieces of wood for the back post. But better take 2 pieces because that will be great for resting the back. The back post wood needs to be 12 inches (1/3).
How to make a child's chair?
We have already shown the wooden toddler chair plans and measurements in the previous section. Now we will assemble them step by step and make them look perfect.
Well before starting anything, wear your hand gloves. Measure every single piece of wood using measuring tape according to the size.
Step 1: Construct the frame first – Our first job would be to build the frame. We have 4 frames. We'll assemble them using nails and try to make them look square.
Since the side frames are bigger, they will go to the outer side, and others will go inside.
Step 2: Assemble the legs – In this stage, we will attach the leg using nails and glue. First, attach the front leg with the glue, and then attach the back legs. Ensure that it is perfectly fitted; if excess wood is visible, assume it is not attached properly.
For added durability, start putting nails as soon as the glue is completely dry. Better use wooden nails here. If you use metal nails, it might hurt your kid's leg at some point.
Step 3: Set up the seats – Remember we have five pieces of identical wood for seats? Now, we have to settle them on the frame one by one. Make sure there are no gaps between the pieces.
Initially, attach them using glue. Cut your last piece of wood using your hacksaw if it gets out from the frame. When it seems good, start putting nails.
You should use at least two nails for each wood, and then for the four corners, you should use eight nails.
A quick tip: if you are looking for the process of DIY toddler foam chairs. Follow this instruction. Just use a foam seat instead of wood.
Step 4: Install the back post – We are only one step away. Now take your two back post wood, and attach them on top of the back leg one by one. You should leave a little space between these two planks of wood.
As always, glue them first, and then put the nails using your hammer. And you are done!
Your kids chair is ready now. Again you have to check two things. First, check for any excess wood that has come out or not. If yes, then cut it.
Secondly, check if all the nails are perfectly fitted. If any of those seems unfit, then fix that now.
Well, there is another thing you could do for your kids' chair. You can put color on the chair. Use different types of colors to make it attractive.
Things to consider when making a chair for your child
 You have to consider a few things when you DIY small wooden chair for your kids.
Focus on the chair size: Depending on your kid's age, you have to figure out the size. If your kid is below 4, the chair should be smaller than average.
The chair will probably need to be larger if your child is older than 9. But you can follow our size if your kids are between 5 to 9 years old.
The chair should look cool: Kids love fun things. So make their chair attractive by coloring or putting on cartoon stickers.
Comforts are important: Make the chair comfortable for your kids. Otherwise, they won't feel great to have it. They could refuse to sit here if they find it uncomfortable.
Is it worth making children's chairs on your own?
 Yes, it is worth it. First of all, it will be extremely cost-efficient. Unlike a brand new chair, you will probably spend less than half of what you would.
Secondly, you will be able to customize it in your way. Lastly, the process is incredibly easy, so it will take only a day to complete.
Final Words
By now, we are pretty sure that you understand how to make a child's chair following only four steps. We tried our best to make the process easier and more understandable.
Begin by organizing all the tools and materials that we have listed. Once you manage everything, start building your kid's chair following our instruction guide.
When it's finished, recheck if anything looks odd or harmful.
Finally, decorate the chair with coloring. You could also write your kid's name on the chair.