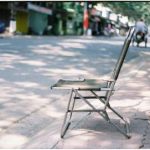 Folding chairs can be really helpful if you are throwing a party in your house and need extra seating arrangements. They are lightweight, easy to store, and highly portable. But how much weight can a folding chair hold?
Most chair manufacturers claim their chairs to hold 300-800 pounds. But the range can vary depending on the model, material, and other factors. We will go deeper to find out whether this claim is true or not.
Plus, we will explore the weight limit of folding chairs made of different materials. Let's get started.
How Much Weight Can a Folding Chair Hold?
First of all, folding chairs are made for different purposes. Plastic folding chairs are highly popular for party venues as they are very lightweight and sturdy. Metal chairs are mostly used in homes for recreational purposes. You will find many beach chairs made of aluminum out there. These chairs are popular for their durability.
Most plastic chairs have a weight limit of about 800 pounds. But the actual scenario might be different from this. The weight of a baby elephant is about 200 pounds. You might not be thinking of placing four baby elephants on a plastic chair, right?
The truth is, most commercial-grade chairs made for general purposes can withstand a maximum of 300-350 pounds. Larger chairs might have a bit more capacity at around 500 pounds.
So, you should keep the weight capacity in mind while buying a folding chair. For persons with standard weight, all-purpose folding chairs are fine. But if you are a bit heavy, you should go for a chair with a higher weight rating.
What are Folding Chairs Made of?
Depending on the material of the chairs, we will divide them into categories to understand their weight limit better. Let's start off with plastic chairs.
Plastic chairs are the most popular choice for both event management companies and homeowners. These chairs are very lightweight and portable. So, they can be carried anywhere easily.
They take a lot less space than other folding chairs when stored. As the whole chair is made of only plastic, these chairs will resist stain better than all other folding chairs. So, plastic chairs will fit any party, even the bar-b-q party going on in your backyard.
Weight Limit
The plastic folding chair weight limit is greater than other materials. It is because these chairs are made of thermoplastic polymer, which gives them their characteristic strength.
These chairs are rated to hold about 800 pounds. But remember, a person who has a physique like a Sumo wrestler might not fit into these chairs. Though you can place weight on them, they aren't very wide.
A metal folding chair is mostly made of steel or aluminum. Metal tubes are riveted into each other to make the frame of the chair. The seat is also made of sheet metal. Though metal chairs are very durable, they might not hold as much weight as plastic chairs because of the rivets.
If you need a chair to sit in for a short period, metal chairs are fine. But sitting for an extended period might make you uncomfortable as there is no padding on the seat.
Weight Limit
Most metal chairs will have a weight limit of 250-300 pounds. As the metal tubes are joined with rivets, higher loads can damage the joints, and the chairs can collapse. These chairs are also not very wide, so larger people shouldn't sit on them.
So, we suggest you don't put any larger weight than 250 pounds on metal folding chairs, especially if the material is aluminum.
Padded folding chairs can be made of plastic or metal. The main difference between padded and non-padded chairs is in the seat. Padded chairs have cushioned seat that is covered with a comfortable fabric.
These chairs will cost more than plastic chairs but will give you a comfortable seating experience. Padded chairs are a bit wider than plastic chairs, so they are suitable for large people.
Weight Limit
Standard padded chairs will hold up to 300 pounds. But remember, putting such a weight on the chair for a long time might warm the padding quickly.
Mesh folding chairs have been popular lately. If you need a folding chair outdoor, mesh chairs will keep your butt from sweating even under the scorching heat. The breathability and comfort of mesh chairs are the main selling points.
They are made of high-quality mesh fabric that is highly durable, breathable, and lightweight. The fabric also provides some cushioning.
Weight Limit
Mesh chairs have greater weight capacity than most other types. Standard mesh chairs will hold up to 1000 pounds at ease. As mesh chairs are wider than regular folding chairs, they will accommodate larger persons with no issues at all.
Which Folding Chair Has the Best Weight Capacity?
Though the maximum weight limit of folding chairs isn't often used, you should keep an eye on this factor while buying. If you are buying a folding chair to use for recreational purposes such as camping, a metal, padded, or mesh chair will do fine. But remember, these chairs are quite expensive.
If you need folding chairs in large quantities for an event venue, you can go for plastic chairs as they will cost less and be durable even after heavy pounding. These chairs will take up to 800 pounds of weight before collapsing.
Conclusion
Be it your fishing trip or solo camping; a folding chair will let you rest on a bed of tranquility. Carrying a folding chair is also easy, so you can throw them inside the trunk of your car.
But it is important to know how much weight can a folding chair hold, especially if a large person is going to use the chair. You might already get enough idea about the weight limits of different folding chairs.
Now you can choose the right chair depending on your needs, the size of the people sitting on it, and other crucial factors.
Related Posts:
How to Reupholster a Chair with Arms- Step by Step Guide
HOW TO CHOOSE A DINING CHAIR -An Ultimate Guide