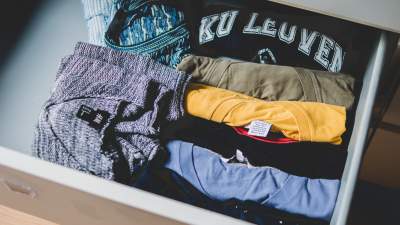 You put too much force on your drawers and you will break something. Calling professional movers for this is not always a good option let alone an affordable one. That's where we come in.
Here we explain how to take drawers out of a dresser. Because we know this is the part where you get frustrated.
Identify the type of drawer you have in your dresser. And, read the removal process of that drawer. Follow the instructions the best you can. If you have any questions, look for the answers in the FAQ section. I am sure that you will have all your questions answered about the topic.
How to take drawers out of a dresser?
Well, first of all, let me remind you that not all dresser drawers are the same. And secondly, I am going not to mention some specific dresser drawers that people generally use at home or office. So, let's get into it.
1. Soft Close Drawers
Some of you might experience the hard way of closing drawers, but soft-close drawers are easier because you can close them very smoothly without any damage. Now if you want to remove this type of drawer then here's what you should do-
Remove everything from the drawer to make the mass lighter.
Then pull it as far as it goes.
You might need to check if there is a lever or not.
If there is a lever, then you need to push it and drag it.
If there is no lever, then you might find a clip. All you have to do is just remove it and then you know the rest(just pull it).
2. Wood Glides
Many of you were waiting for this, right? I got you buddy. Many people use this kind of drawer according to my research. But I know this type of drawer is not your pal.
You can't open that smoothly. It helps you in doing exercises too. Just joking. Let's get into the real business.
You know what to do first. Get rid of the materials you have stored in the drawer.
Let's start with the top drawer then we will go down to the bottom. It will make your work easier.
Everyone has a destination. Even the drawers. Don't worry about how much you need to drag it out. Just do it until it stops at the stopping point.
If your furniture is made of one wooden track then it will be harder to pull but if it's dual then it will be relatively easier but still need good force. Understanding the type of wooden drawer runner you have might help you a lot.
3. Metal Glides with Lever
Because wood glides are so hard to remove, nowadays sellers are trying to sell metal glides with a lever to make it easier for the customers to remove them.
Always the formalities. Remove all the things you have in the drawer.
Begin from the top to the bottom.
Now pull it until the drawer box stops at the stopping point.
Find the lever. You can find it at the center of the lever track. In most cases, you will find straight levers but sometimes it could be skewed or curved.
Then push the lever and just pull the drawer out.
Make sure you pull it in parallel motion. Because they get stuck at the front.
4. Stabilizer Screws
If you do not take care of this kind of drawer then it might topple over because it gets unstable in the long run. By the way, it takes time to remove these kinds of drawers but it is an easy process I must say.  So let's see the process on how to remove it-
I have shown earlier what to do first. Do the same here too. Remove all the things and start from the top to the bottom.
Then pull the drawer until it is fully extended.
Then go and look for screws and then use the screwdriver to remove them.
Look for catch tab devices and then release them with your index finger which will help you to remove the drawer from both side tracks.
Then all you have to do is pull. But in parallel motion also be careful because it is heavy. Yes, even if you remove all the items from the drawer, it's still heavy enough.
5. Drawers with Anti-Tip Cables
One of the common types which come with furniture which are cheap. A few steps will be covered so that you can remove the drawer easily.
Pull and extend the drawer as much as you can.
You need to open it completely so that you can find the anti-tip cable.
You might need a screwdriver to unscrew it cause usually the cables are attached with screws.
After that, find disconnect tabs and press them both at the same time.
Then pull the drawer and push the metal tracks.
6. Drawers with ball bearing slides:
Drawers which come with ball bearing slides are easy to move because of their mechanism. These types of slides are used commonly but I am showing this specifically because if you notice most of the types I have mentioned have levers. But now I am going to instruct you on how to remove ball-bearing drawer slides with no lever.
Just do the first things first. Remove all the items from the drawer to make it light.
Then start from the top to the bottom.
If you find no lever you may find the tabs and try to disconnect them.
Then pull them with your strength but be careful not to hurt yourself in the process.
If you can't do it by strength then use a screwdriver to disengage them.
Your hand should be under the backside of the drawer to give a gentle force.
Then congrats you have removed your drawer without any lever.
Now supposedly my techniques do not work, there is a high enough chance that your furniture is no longer working that well. You may need to buy another one.
FAQs
Some questions are very popular on the internet. So, I decided to clear up every confusion you have in this single article.
Why won't my dresser drawers come out?
Answer: Most likely, you are not doing it in the right way. Please make sure to follow my methods. And if you see it can't be done then unfortunately you may have to go and buy another piece of furniture.
 Can all dresser drawers come out?
Answer: Yes most of them but plastic drawers don't come out. It takes so much time that people are fed up. But yes you can remove it with some tools. But I suggest you not to.
 How do you loosen sticking drawers or cabinets?
Answer: You need to use lubricant or paraffin. If you apply this, your drawers will work smoothly when you pull it out.
 How do you remove a drawer with full extension slides?
Answer: Well, it depends on which kind of drawer you have. But the basics are, that you have to remove drawer slides anyhow. Suppose you have drawers with anti-tip cables. Now to remove dresser drawers you have to pull them to the extent. You need to open it completely.​​ Disconnect the tabs and pull the drawer as well as push the metal tracks. This example is all I can give because drawers with anti-tip cables are required to be removed with full extension slides.
 Why are my drawers hard to open?
Answer: Some drawers are really hard, like wood glides. Maybe you have one of these. But if you still think it's hard, you might need to apply some lubricant and then use my instructions practically. Hopefully, you will not have any trouble again.
Final Thoughts
Make sure you follow every single instruction I have given. It is really easy and nothing to worry about at all. Yes, some drawers take some time but you can sort it out by having some patience. You just have to do it steadily. You don't have to see other articles anymore.