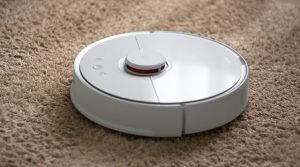 The iRobot Roomba line is a real lifesaver for people struggling to keep carpets and entire homes clean. If you're tired of vacuuming or you operate on a tight schedule, this great innovation is for you. Roomba is an automated robotic vacuum cleaner quickly gaining popularity among homeowners.
It performs exceptionally well while keeping power consumption low. Its wheels enable it to move around your home collecting dirt particles. At the same time, this robot has rotating brushes and a vacuum cleaner for easy sucking.
This device cleans your floors and carpets by mopping and vacuuming them, leaving your home sparkling. Interestingly, this little marvel can even detect heavily-infested sections. If you love pets, you need this technology today.
Overview Of Roombas Vacuum Cleaner
The Roomba line has a whole collection of robotic vacuum cleaners. They vary in performance, features, and even costs. But, some features are common for all models. Like, all Roomba vacuum cleaners pick up food particles, pet poop, dirt, and pet hair.
Also, you can program them to work at a certain time, even in your absence. Although this system comes integrated with smart algorithms, you may need to install navigation lights. They help in directing the robot, especially if your home has many rooms.
But, you'd need to be sure you are buying lights that are compatible with your Roomba model. If you find some that make cleaning easier for the gadget, go for them. You'll always get back home with little floor cleaning to do if any.
Below is a small but detailed review of some of Roomba's latest productions.
1. iRobot Roomba i3 EVO
This tool is an excellent fit for people with pets that shed a lot of hair. Apart from thoroughly sucking all the dirt, this system also empties itself. Roomba i3 EVO's intelligence will marvel at you. It cleans by repeatedly moving back and forth in straight lines until the area becomes fully polished.
Also, it's ideal for both small and large homes. Operating it is also easy because you can use an app provided you have a wireless connection. Amazingly, you can ask this bot to vacuum clean specific rooms from the app. You can then get back home to a freshly cleaned home.
Features;
Evaluates your cleanup habits and may suggest better alternatives
Allows you to clean by mouth
Comes with inbuilt sensors and tells the robot where it can't fit
Roomba j7+
This is one of the latest products in the Roomba line. Its barrier escape technology makes operations quite easy. In case of any barrier, the robot veers around it to avoid a collision. You will also never have cases where the wheels step on and spread a pet's poop; this robot knows.
You'll enjoy a lot of conveniences. We are yet to tell you about the mobile app you can use to control the bot while away. Commanding your system has never been easier than it has become with this current model.
Features;
Picks data from the surrounding
Compatible with smart home technology
High precision maps
Auto-emptying base
Roomba s9+
Most homes have those awkward corners that tend to harbor a lot of dirt. If you're tired of trying to reach such sections, Roomba s9+ is what you need. It deep cleans all home parts, including the unreachable edges.
This s9+ model employs high technology that ensures it maps your home within the shortest time. Interestingly, this gadget can tell when your pet poops and collects the mess immediately. Have we told you about Roomba's suction? Well, its lifting suction is over 40 times more powerful than other models.
Features:
One of the most powerful vacuum robots in the Roomba line
Has optical sensors
Comes with a bumper sensor
Automatic camera wiper
Robotic vacuum cleaners are good, but Roomba robotic vacuum cleaners carry the day. They are relatively quiet, effective, and have the best ability to navigate your home. Controlling them is also easy, especially if you have an app.
All you need is to determine your needs and align them to your budget. You are not limited to the products we've listed above. Roomba is an extensive line and comes with many products.
To choose effectively between the many products in the collection, consider the below features;
Ability to navigate
Sensors
Suction
Ability to self-empty
Compatibility with apps and smart technology
How Well Do Roombas Work?
You must have noted that Roombas don't come cheap. But, putting the cost factor aside, how well do Roombas work? Do they give you value for your money? The simple answer is yes, Roombas are a worthwhile investment. They are an excellent investment for every modern homeowner.
Roombas help you manage the daily messes and keep your carpeting dirt-free. They are also very effective in vacuuming, thanks to their high coverage and ability to clean. If you take some time to watch as this gadget cleans, you will be amazed by its attention to detail.
Roombas' mapping technology is also very high. This is what enables your Roomba to clean several rooms in a home effectively. Precisely, what happens is that the gadget studies each floor design when vacuuming. It keeps that data and uses it in the subsequent cleanup sessions.
The fact that you're sure of the complete removal of pet hair and other debris answers your question. Roombas work intelligently and excellently. You don't have to push it around as you do with traditional vacuum cleaners.
Do Roombas Work On Carpets?
A good robotic Roomba vacuum cleaner will come in handy when cleaning any surface. For carpet cleaning, your Roomba automatically increases its suction to clean deep inside the yarns effectively. Also, some Roomba models come with both acoustic and optical sensors.
The two sensor types are the best for identifying the extremely dirty parts of your carpet. That's the reason why Roombas automatically choose the cleaning pattern to employ depending on the situation. These sensors are always at work.
Some Roomba models bear special features that make them the best carpet cleaning options. Roomba 981, for instance, is the best for carpets because it has a "carpet boost option." If you turn it on, it produces double suction power, allowing the gadget to siphon literally every particle trapped in your carpet yarns.
Can Roombas Replace Traditional Vacuums?
Roombas have come a long way, and their evolution is evident. The brand continues manufacturing better models by the day. If you're still holding onto the traditional vacuum cleaners, you're probably wondering whether to replace them with Roombas.
Although Roombas are doing pretty well, we've not reached the point of relying on them entirely. Roombas are ideal for daily cleaning, but you'll need conventional standup and push vacuums to deep-clean at least fortnightly or monthly. It all depends on how untidy your space gets.
At the same time, you need to appreciate there are things that Roombas won't do yet. Like, you can't rely on them to dust your vehicle or go up the stairs. Maybe in years to come, they will do all that, but we're yet to get to that level.
But, this doesn't render the robotic vacuum cleaner useless. It remains a very useful tool in every home. You realize it will save your traditional push vacuum from too much tearing.
Conclusion
Advanced Roomba models come with unmatched processing power and remarkably high intelligence. They even detect when they're about to run out of charge. Should this happen, they get back to the charging dock and recharge. Surprisingly, they later resume their duties after recharging fully.
This is the ideal time if you've ever desired to see your money work for you. Pushing your vacuum cleaner doesn't have to be a daily activity; we have better options all over. These machines are the best, especially when people in your household may be suffering from respiratory diseases. The best thing is that you can work around your budget because there are plenty of models.
Related Article:
Best Robot Vacuum Without Wi-Fi 2023 Reviews